Proaim Gladiator Ergonomic Body Support Camera Rig
Save

Liquid error (product-badge line 32): -Infinity

%
Feel Like You're Barely Carrying Anything
Proaim Gladiator Rig
Takes Off All the Weight
The Most Comfortable Shooting Experience
The Proaim Gladiator Rig has been designed by keeping the health of the camera operator in mind.
1. It prevents spinal compression when you place the camera setup on the shoulder while allowing to comfortably operate shoulder-mounted configurations without affecting the camera's movement or balance.
2. 100% of the weight is transferred from your shoulders and back to your hips, bypassing your spine entirely. You can now have the freedom of an unrestricted handheld camera work without compromising your back health.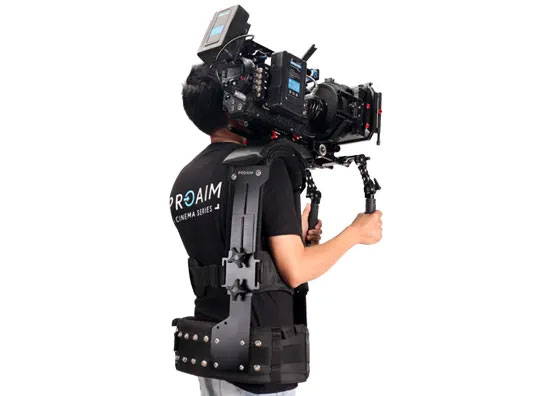 Best Camera Support
1. The Gladiator rig supports heavy-duty loads, such as a fully-accessorized ARRI, Red or Black Magic Cameras with the entire weight distributed to the hips.
2. A robust shoulder rest sits slightly elevated off your shoulder, and you can place your camera rig right on top of it. It is large and ensures that the camera won't slide off of it. It sits level, unrelated to your shoulder slope.
3. The tilt angle and lateral position of the shoulder rest are also adjustable after loosening four screws. The rig also has accessory loops for walkie-talkies and other on-set accessories.
Designed for All
The Gladiator rig is suitable for men and women operators alike. Most women prefer to adjust the midriff strap either above or below their chest line, and some prefer it to sit straight across. The midriff strap is there to stabilize the rig to your body and is not part of the weight transfer method. It adjusts for comfort.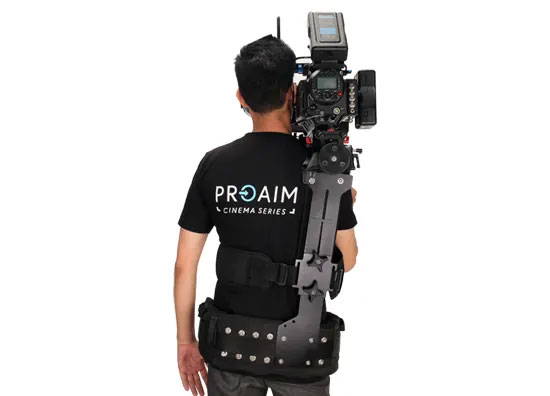 Smoother Steadier Workflow!
Proaim Gladiator Rig is a great relief from your normal aches of handheld camera operating. It allows you to work in the way you are used to while preventing back pain, letting you hold the camera steady for longer duration without fatigue. It has a non-stick surface to ensure a smooth workflow.
Simple & Quick Setup
Proaim Gladiator's sleek design is lightweight and doesn't extend out from your body. Run through doorways, sit down, stand up, crouch, spin around - it will support the weight without getting in your way. It quickly adjusts to fit different body types, as well as adjusts on the fly to keep you comfortable take-after-take. Once it fits your body, a small adjustment to the front strut gives you that extra inch of height you needed.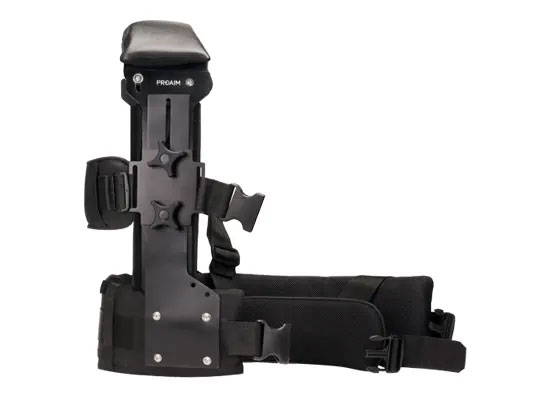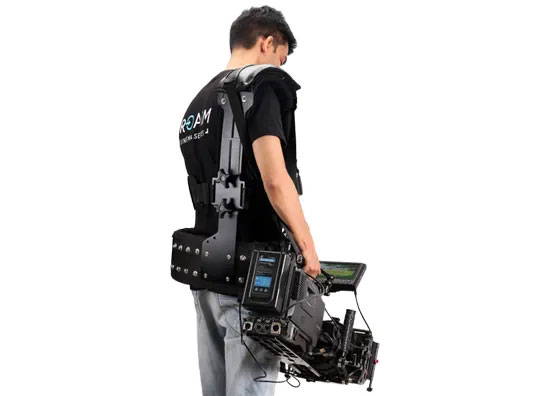 Under Sling Your Camera
The Gladiator rig also supports a camera in underslung mode while still transferring all the weight to your hips, totally bypassing your spine. To do this, attach any secure strap to an eyelet of the camera's top handle, wrap it around the gripping pad on top of the Gladiator Rig and find the balance point. The Gladiator rig will support the weight, and the midriff straps will keep everything in place.
Foam-Padded, Sweat-free Breathable Fabric
Product Weight (without packing)
Proaim Gladiator Ergonomic Body Support Camera Rig
Heavy Duty
Gladiator rig will support the weight for you if you want to go handheld with that "way too-heavy" camera setup. It withstands set-life, job after job.
Ergonomics
It keeps your body safe by transferring weight off the shoulder and thoracic/lumbar vertebrae to the hips, which can support much more without danger of injury.
Value
Don't ignore your back's health. Take care of your body without affecting the quality of your work, and say goodbye to back pain and unnecessary health care costs.
---
Guaranteed Fast Delivery
For all orders
Quick and Efficient
Customer service

Easy Returns
Up to 30 days
1-Year Warranty
On All Products
---