Proaim Quad Super Doorway Dolly
Save

Liquid error (product-badge line 32): -Infinity

%
---
A Smart Way to Move the Camera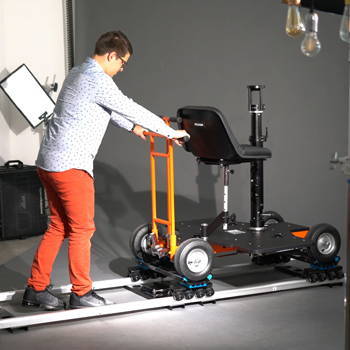 Personalize It
Quad Dolly can be equipped with Skateboard Wheels or Standard Track Wheels for use on tracks or Pneumatic Wheels for standard floor use. You can use a tripod, a bazooka, a slider, or any other standard Euro Mount Accessory and configure it your needs.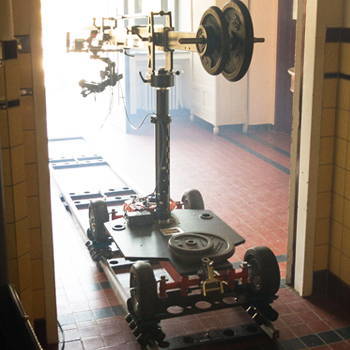 Strongest Platform Dolly
The Quad Dolly has an extremely solid Chassis Design, and the upper base is made of Solid Wood with high-quality finish. This makes it extremely robust and can easily handle payloads of up to 500 kg/1100 lb.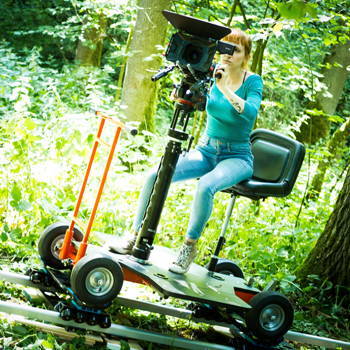 Low For The Best Perspective
The platform height of the Dolly is merely 21cm/8" from the ground. We wanted to make it as low as possible to help you capture those low shots very easily.
See how the Mitchell Vibration Isolator Works
Track (TRK-16-25)(Optional)

Bazooka Specifications (Included in P-QUAD-SB)

Proaim Quad Super Doorway Dolly
Chair
Steering Push/Pull Bar

Manoeuvres on Small Sets Like no Other Platform Dolly
We designed the Quad Doorway Dolly while keeping mobility and easy operation in mind.

With an All-wheel steering system, the Proaim Quad Dolly maneuvers on small sets like no other platform dolly. It's capable of negotiating an extremely tight circle of 2 m (6 ft).

Steering Push bar allows pushing/pulling the Dolly on the ground with standard or on the track extremely smooth and easy.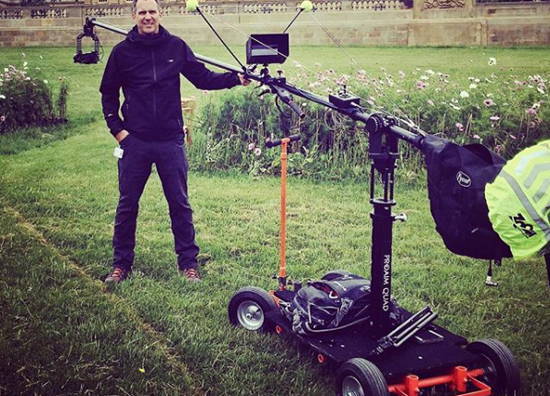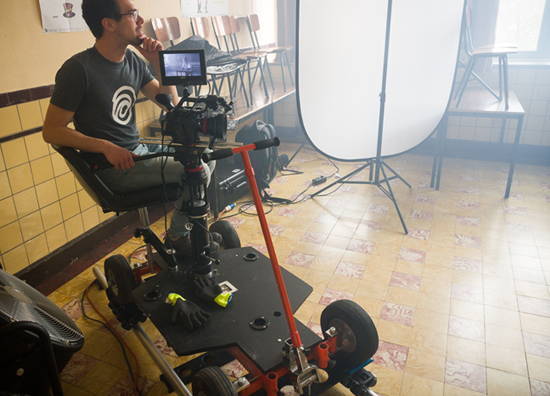 Create the Shot you Envision
The Quad Dolly can be configured for use with multiple setups such as slider, jibs, tripods, and geared heads which enables you to bring the director's vision to reality. We offer multiple accessories at highly affordable prices so that you can calibrate the Dolly exactly to your needs.
Let Small Become Big, Double the Size
The Quad Dolly comes with removable sideboards that add an extra 10" per side for increased platform width to enable the Cameraman and the assistant to stand, sit or even kneel on the Solid Platform.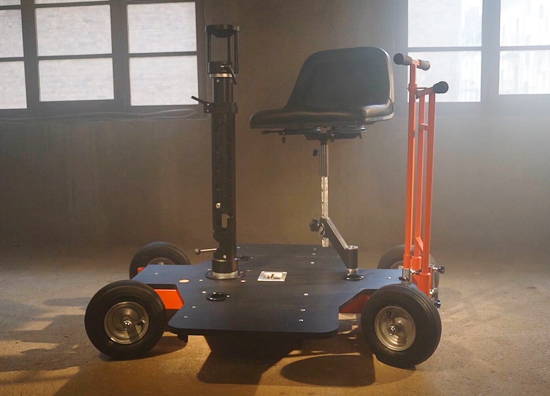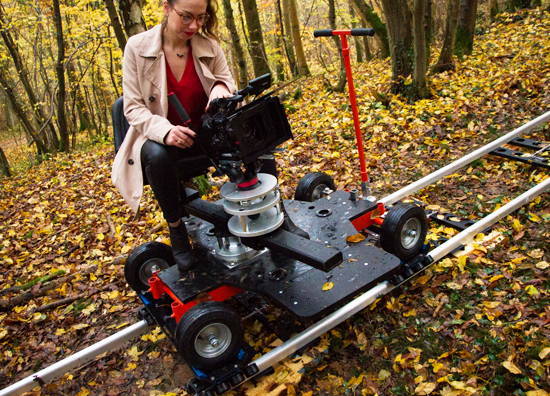 The Most Comfortable Dolly Seat
We understand how tiring a whole day shooting can be. The Quad Dolly comes with a thickly padded cushioned seat which provides exceptionally comfortable seating to the camera operator. The seat mounts in 4 different positions allowing you to achieve a variety of camera angles. The seat is also height-adjustable for an optimal seating position according to the operator.
Unlock Your Creativity with Add-On Accessories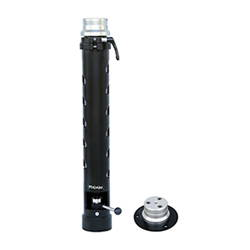 Allows height adjustment from 32"-46". Stable solid design offers flexibility for camera positioning.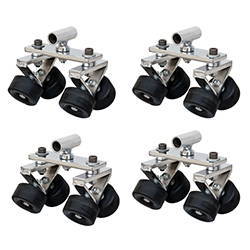 Ensures silent and super smooth moves on curved and straight tracks. Coverts your Quad dolly into a Track Dolly.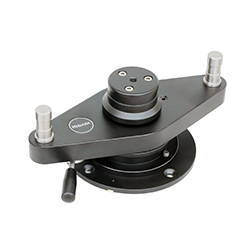 The attachment for two seats and a Euro adapter ensures seating and camera setup mounting options. 360° Rotatable and can be locked to a desired static position by a lever.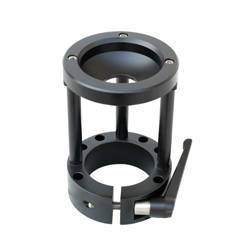 Raises the height of your camera as required. It can be attached to any Dolly or Bazooka via Euro/Elemac Mount Adapter.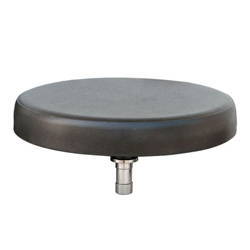 Thickly padded cushioned seat provides an extremely comfortable seating to camera operator for a day-long shooting. Compatible with Proaim Dolly Turnstile.
Available in Two Combinations
Q: What weight will the platform seat hold?
Ans: The platform seat can easily hold upto 450lbs.
Q: Is the dolly firm and steady when negotiating complex moves?
Ans: Yes, it's absolutely stable in any kind of moves.
Q: What materials are used in its construction?
Ans: The dolly and seat are made up of mild steel. The Floor wheels are air filled pneumatic wheels and all fasteners are of stainless steel (SS) for more durability.
Q: Can you sell a track with this dolly?

Q: Will there be any alignment problem in using more than one track?
Ans: No, there will be no problem while using more than one track. We provide the supports that help to keep the track in a stable position.
Q: Can I use tripod with this dolly?
Ans: Yes, you can use a tripod with this dolly. You just need to detach the bazooka from the dolly in order to attach the tripod stand onto the dolly.
Q: What will be the center distance for using this dolly?
Ans: The central distance of this dolly is 25".
Q: Is the seat fixed or rotating?
Ans: Yes, the seat is 360" rotatable.
Q: Will this dolly work on flexi or curved track?
Ans: Yes, the dolly will work on flexi track or with curved track with central track distance of 24" - 25".
Q: What is the diameter of track?
Ans: The dia of track is 1.77".
Q: Is it returnable for a full refund if it doesn't meet my expectations upon delivery?
Ans: Yes, absolutely. We always backup our sales. In case, you don't like the product, we take it back within 30 days and you get a 100% refund.
Ans: We provide 1 year warranty from the date of purchase. Items which are covered by the warranty period will be replaced at no cost to the customer. Replacement parts of the product will be provided at nominal cost (covering the cost price of the replacement parts only) to the customers after the Warranty Period has expired.
---
Guaranteed Fast Delivery
For all orders
Quick and Efficient
Customer service

Easy Returns
Up to 30 days
1-Year Warranty
On All Products
---